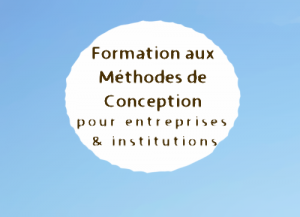 Seminar: Training on Design Methods for enterprises & institutions
Organised expression & Empathy Management
In this module participants will learn to structure the familiar brainstorming processes in order to render exchanges sharable and more efficient. Within a sharing environment, ideas can be organised.
The skills developed here are useful for illy structured contexts, such as exploratory discussions amongst colleagues or partners of an ecosystem.
Based on: Design Thinking + Graph Theory
Problem Definition & Analysis
This module systematises design process leading to an input for Project Management. The distinction between functions and parameters aims at the better organisation of the work division during the project. Complex problems are thus rendered explicit and their resolution is distributed throughout the organisation.
The skills developed here are useful for the management of complex projects engaging stakeholders from different departments or organisations.
Based on: Systematic Design + Axiomatic Design
Identity Breaking & Creating
The last module is dedicated to the design of disruptions. Here, participants will learn to question the identity of actual products and services and ask questions that go beyond the current level of expertise. Then, they will be enabled to structure the design process  of new products and services.
The skills developed here are nourishing the strategic planning of the enterprise or the institution, predicting or even leading disruptions in their sectors of activity.
Based on: C-K Theory