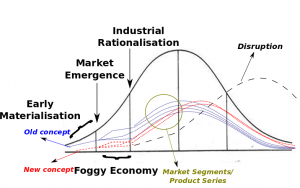 My research is about the modelling of innovation processes. Continuing the trajectory of my thesis, I follow the developers being interesting mainly on their "side projects" and the "intimate milieus" having an exploratory nature, as well as the way in which organisation can (or cannot) take into account this particular mode of action.
In this direction, I have a small number of scientific affiliations, registered in an exploratory or occasional posture. I collaborate with Mines – ParisTech on topics related to design theories, as well as to the generic epistemology. More recently, I collaborated with the NTUA and the School of Fine Arts of Athens on topics related to arts, from the perspective on innovation.
This research nourishes and is nourished by my advancements on organisational action and training.